So around ten years ago, I met Richard Keith, he was a young talented photographer who was making his first short film, 'Exhibit A' He was looking for someone to play the lead. A young lad in private school who was obsessed with hunting, not animals but the weak, and abducts a fellow class mate to torture. I auditioned well but he had someone else in mind. He had left his email on the script, so that night I looked him up and added him on Aol Instant message. We started talking about our influences and the movies we liked, Scorsese, Kurosawa, Christopher Guest comedies. I'm sure somewhere in the conversation I flattered him and his directing style and the writing of Exhibit A. Thanks Steve Jobs and your technology for helping me win the role and placing Richard in my life.
Director and co-writer Richard Keith
Exhibit A was a really fun experience for me as an actor, Richard and I worked closely for months on the piece. I shared some of my writing with him a film script called 'Lifted', which he had some ideas about, and he shared some new material he had been working on too. After Exhibit had ran the festival circuit in the US. We knew we wanted to collaborate on something else. I would constantly be telling Richard anecdotes about my transition to acting in L.A., and the weird and whacky people I had encountered and certain sticky situations I would find myself in. So he suggested that we recreate some of these scenarios and put them into a script. What started as a very broad comedy called "Meet Ronnie Deli" soon became a grounded based on a true story, mockumentary. Richard and I thought it might be fun to film a few scenes from the script to see how it would turn out. I asked a few of my acting buddies Adam Huss and Anna Becker to help out.
Me, with Anna Becker (Molly) and Adam Huss (Paul)
We let loose and came up with some really interesting material. The dance off scene was the first one we shot, then the security guard scene, then the Paul meets Molly scene soon followed. Richard edited it together and we showed it around to a few people, who flipped and encouraged us to continue to shoot more.
We had no money and were both struggling to make ends meet, Richard got me a job in a production company as a producers assistant. one day I showed my boss what we were up to and he loved it. He gave us use of all his office space to use as locations, so every weekend or evenings after work we would bring in our actors and skeleton crew - usually just Richard. And we slowly knock the script out.
We were so lucky with our cast, most everyone who is in the film was a friend, or someone I had worked with on other shorts or knew from acting classes I had taken.
So about four months later we had a complete film. We decided to hold an industry screening at Culver Studios. It was a huge success, a packed house with agents from CAA, William Morris. Producers, distributors. The room was on fire and everyone was laughing in all the right places. I remember sitting at the back grinning from ear to ear. So proud that we had pulled it off.
Afterward the screening Kevin Huvane from CAA asked us if we had thought about making it into a TV series and wanted to get it to his TV department.
This was huge!
We bought on another producer to help us figure out deals coz what did we know?
A pitch meeting was set up with David Madden at Fox Studios - we showed him some scenes form the film and he loved it, he offered us an if come deal - in laymen terms this means he wasn't going to give us any upfront money but if it sold to a network, we'd get paid. CAA were having none of it and advised us to not take the deal. So we didn't.
Things went really quiet with CAA after that and we thought it was the end of the road, so Richard submitted the film to a few festivals. We were excepted to the Boston Film Festival which we both got to go to, our first festival. it was great. Unfortunately for us it was a dead house, perhaps twenty people showed up, however we did get some great reviews from the press.
Nickelodeon show "Just For Kicks"
Meanwhile I had booked an acting gig on a show called 'Just For Kicks', A Nickelodeon show produced my Whoopi Goldberg. so Wannabe had taken a back seat.
Richard was handling it and called me after the film had played at the LA Independent film festival, that he had met a guy called Tony Jonas in line for popcorn and persuaded him to see our film instead of the one he was booked for. Afterwards Tony offered us a deal for TV. Turns out Tony had been the president of Warner Bros. TV for eight years, the guy responsible for putting Friends on the air.
I met with him a few days later and his enthusiasm and excitement for wannabe was electric, this guy could sell ice cones to eskimos (A line from the movie)
He knew exactly where it belonged and who should show run it. Marta Kauffman the co-creator of FRIENDS, yeah that small TV show with Jennifer Aniston, Courtney Cox and Matt LeBlanc.
Marta Kauffman created show
Warner Bros. TV Studios bought the show and we thought wow, the stars are aligned this is g
onna happen.
We spent a few months in development and then went to pitch at the networks - CBS passed, NBC Passed, HBO Passed, Fox passed, Showtime passed. Then ABC loved it, but eventually passed.
We were shocked, everyone who saw the movie and the pitch loved it and laughed their head off - but yet no one was buying.
Richard and I decided to not get disheartened and concentrate on something else - Together with Darren Darnborough, A british actor and friend, we decided to create a new web series called Andy and Chaz bugger Off To America, about two bumbling crime bothers, who had run away to america to escape a wrong doing and start a new life.
The first episode of Andy And Chaz Bugger Off To America Watch them all on
youtube
Wannabe sat on the shelf.
It was nice to see some of the cast members start to get recognition for their talents.
Matt Dallas in Kyle XY
Matt Dallas, who had a small part as one of the dancing contestants became the star of an ABC Family show called "KYLE XY"
Jonathan Dixon in Star Trek
Jonathan Dixon, who played the security guard has been in the star trek remake. Adam Huss has appeared in several mainstream TV shows including NCIS: LA.
Liz Warner in the middle
Elizabeth Warner now hosts one of the biggest radio shows on Indie radio.
Spencer Garrett is unstoppable as a character actor, he is in all the major movies and Tv shows, I think he has something over 300 credits.
Spencer Garrett
But the biggest success was from both Tate Taylor who plays Gunner, the coked out director and Octavia Spencer who plays Lady Chanet Janey Jones. Tate went on to star in Academy award nominated movie "
Winter's Bone"
and write and direct the Academy award nominated movie "The Help" starring none other than Octavia Spencer, who eventually went on to win the Academy award for best supporting actress in 2012. About four months before the Oscars, I saw them both at a BAFTA screening of the film and we reminisced about "Wannabe" I jokingly asked Octavia where will she put her Oscar when she wins. as it was obvious to me she was a shoe in. I also said that we should release Wannabe now. It's so timely. Tate was robbed by the way both in directing and Screenwriting - He wasn't even nominated. That pissed me off. He so deserved at least a nom.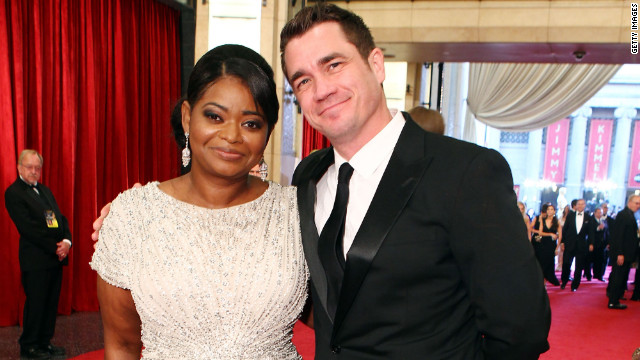 Academy Award Winner Octavia Spencer and Director of The Help, Tate Taylor.
Both Tate and Octavia slipped quietly off the social media radar, changing their numbers and emails, I guess that's what must be done when you reach that level of success. I look back on what a great time we all had as independent artists making our way through this mostly tough business.
Meanwhile I had been auditioning and making some headway, appearing on some good TV shows, Indie films and stage.
Earlier this year, a film I shot in 2010, called "Return to the Hiding Place" had a distribution screening at Sony Studios, and I invited Darren D from Andy and Chaz to come along, he in turn invited Richard Cambridge, A fellow Brit working in Silicon Valley. Who was launching a platform, a n
ew distribution technology company
called ChargePlay. He was at first interested in "Return to the hiding Place" as a demo for the company to launch. As I didn't have the rights and I knew RTTHP had bigger fish to fry, I suggested he take a look at "Wannabe."
A few days later I got a call, Richard loved it and showed it to his colleague Marcus Lovingood and they wanted to make a deal. I couldn't believe it - The movie that has had nine lives.
So here we are today, Wannabe finally gets to be seen. I am so very proud of this film, as it was sure dedication and the coming together of talented artists that made it happen. In the words of Steve Williams, "Success is about the seven P's - Perfect Preparation Prevents Piss Poor Performance." Count them, yes I know there are six, Steve never said he was a scientist. :-)
In this movie I get to embarrass myself over and over and you know what? if it gets a laugh and people enjoy it, then I'm all for it.
I hope you all enjoy it as much as we had fun making it - Wannabe is released on August 10th, 2012 Exclusively through Facebook.